This ideal, high-performance shaft was developed based on prototype club
impressions and on data gathered from the feedback of the professional tour players.
A variation of weight and the flex is presented abundantly by each three characters.
Achive strong trajectory which satisfy the needs of serious golfers.
13 wins in the 2014tour the world. 21 wins in the 2015tour the world. 21 wins in the 2016tour the world.

17 victories around the world
As of 2017.11.13
Victory + Wizard term combined
The name VIZARD is meant to convey an image of a wizard hauling in victories.
We devoted ourselves to the development of shafts that would deliver wins to all contract professionals and golfing enthisiasts.
The shaft function side revised to meet the various demands of top professionals
The exclusive shaft of TOUR WORLD which adopted the needs of a tour pro and the top amateur.
A variation of weight and the flex is presented by three kinds of each of the character differences.
VIZARD for DRIVER・FW
When the butt section of shaft is thick, users often feel that the club is heavy and hard. Therefore, for the feel to remain unchanged even when the butt section is made thinner, a new carbon fiber material, TORAYCA®T1100G was introduced and the shaft was designed with HONMA's unique special rigidity adjustment method(Pat. Pend.). As a result, features of the A, C and Z series are emerged, while keeping the outer diameter at the butt section unchanged as much as possible.
Most of the TEAM HONMA pros are using it in the actual tournament.
VIZARD(EX-A・EX-C・EX-Z) Stiffness distribution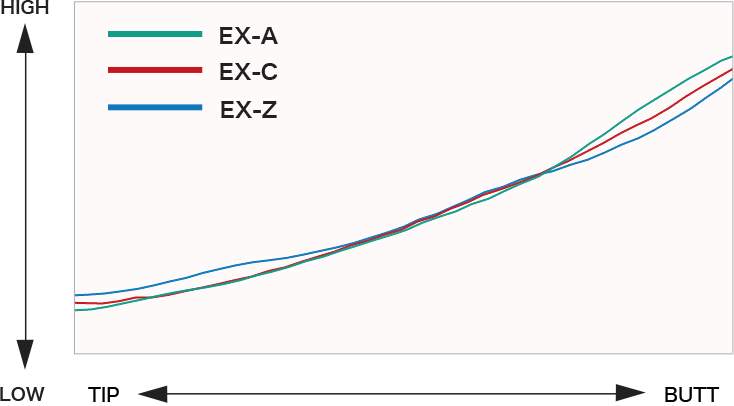 TORAYCA® T1100G
This new carbon fiber, developed through technical innovations by Toray for next-generation aerospace applications, brings together two contradictory characteristics: ultra-high strength and high elasticity.

Resins made with Toray's NANOALLOY® technology balance improvements in both elasticity and toughness, offering a cutting-edge material with excellent flexural strength.
VIZARD for UT・IRON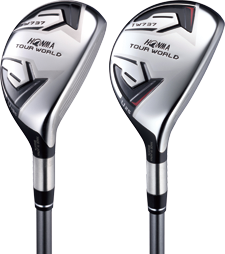 Lightweight and heavyweight zones of shafts coordinate with the product flow of irons
Lightweight zone shaft in which the needs of females and golfers who need a lighter option.
Heavyweight zone shaft contains amorphous metal fiber and is designed in consideration of the product flow of IB shafts and steel shafts for golfers who need a heavier shaft.
100g or more heavy shaft are able to custom made at the request of the men's professional and the seriouse golfers.
The IB tour professionals have wanted, characterized by tenaciousness
High strength and high toughness (tenacity) that are stacked amorphous metal fiber features in the outermost layer of the tip, strongly to hit like the steel shaft, and benefits with excellent operability, swing easy of carbon shaft state-of-the-art exclusive for ultra-lightweight Iron dedicated carbon shaft that combines the feeling.
Amorphous metal fiber
A strong, tough, heavy metal fiber developed by Aichi Steel,Ltd., offering both strength and flexibility.